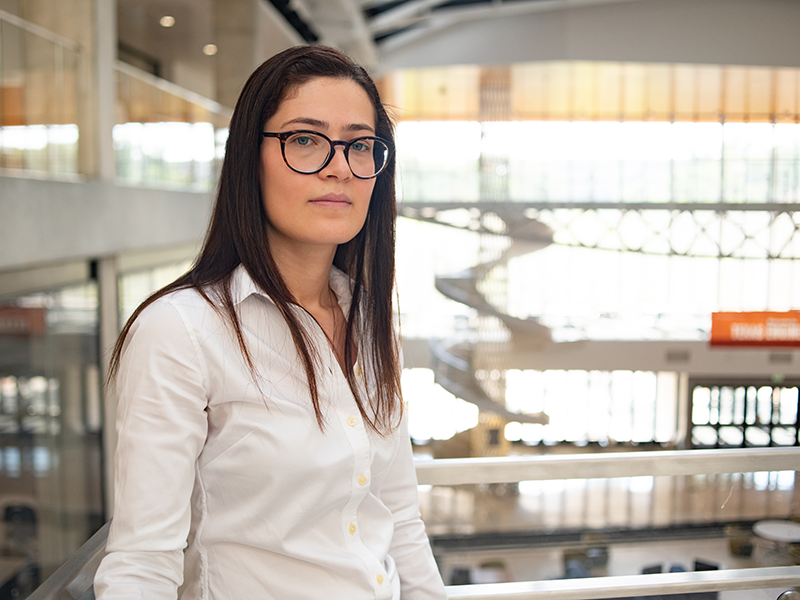 maryam.tilton@austin.utexas.edu
Office Location: ETC 4.138
Maryam Tilton
Assistant Professor
Department Research Areas:
Advanced Design and Manufacturing
Biomechanical and Biomedicine Engineering

Dr. Maryam Tilton is an assistant professor in the Walker Department of Mechanical Engineering at the University of Texas at Austin. Her expertise lies at the intersection of advanced manufacturing and regenerative medicine, with a focus on transforming regenerative therapies for age-related tissue dysfunctions. Before joining UT Austin in Fall of 2023, Dr. Tilton was a NIH-T32 Musculoskeletal Research Postdoctoral Fellow in the Biomaterials and Regenerative Medicine Laboratory at Mayo Clinic. During this time, she played a pivotal role in the development of 3D bio-functionalized injectable scaffolds and biomaterials, contributing to the advancement of minimally invasive tissue regeneration strategies.

She completed her Ph.D. in the ME department at Pennsylvania State University from 2016 to 2020. During her graduate studies, she received several awards including Rising Stars in ME (2019, Stanford), DAAD RISE Professional Award (2019, Germany), and Funds for Excellence in Graduate Recruitment Assistantships (FEGR) Award (2016-2017, Penn State).
Dr. Tilton's research program centers on the development of functional tissue-mimicking structures using visible light-induced 3D bioprinting techniques. Her team harnesses these 3D (bio)printed bio-functionalized structures for both regenerative therapies and mechanobiological studies, holding promise for advancing treatment strategies for age-related tissue dysfunctions.
Selected Publications
Tilton M*, Camilleri E, Potes M.A, Gaihre B, Liu X, Lucien F, Lu L. Visible light-induced 3D bioprinted injectable scaffold for minimally invasive tissue regeneration. Biomaterials Advances. 2023.
Tilton M*, Jacobs E, Overdorff R, Potes M.A, Lu L, Manogharan GP. Biomechanical behavior of PMMA 3D printed biomimetic scaffolds: Effects of physiologically relevant environment. Journal of the Mechanical Behavior of Biomedical Materials.2023.
Tilton M*, Borjali A, Griffis JC, Varadarajan KM, Manogharan GP. Fatigue Properties of Ti-6Al-4V TPMS Scaffolds Fabricated via Laser Powder Bed Fusion. Manufacturing Letters. 2023.
Tilton M*, Borjali A, Isaacson A, Varadarajan KM, Manogharan GP. On structure and mechanics of biomimetic meta-biomaterials fabricated via metal additive manufacturing. Materials & Design. 2021.
Tilton M, Lewis GS, Wee HB, Armstrong A, Hast MW, Manogharan GP. Additive manufacturing of fracture fixation implants: Design, material characterization, biomechanical modeling and experimentation. Additive Manufacturing. 2020.
Tilton M, Armstrong AD, Wee H, Hast MW, Manogharan GP, Lewis GS. Finite Element-Predicted Effects of Screw Configuration in Proximal Humerus Fracture Fixation. Journal of biomechanical engineering. 2020.