Reimbursement for Entertainment
Entertainment expenditures generally include receptions, lunch, dinner, or a similar event hosted by a University of Texas representative. Generally, expenses include food and beverage, flowers, and facility rentals.
An "official occasion" is defined as a reception, luncheon, dinner, or similar event that is funded by the Cockrell School of Engineering. As a rule, the host of the event must be employed by UT at the time the costs are incurred. These functions are generally associated with special programs, University guests, and faculty and staff recruitment.
Cost of food, beverages, and related expenses associated with conferences, workshops, seminars, business meetings, staff retreats, recruitment luncheons, and dinners are examples of entertainment expenses. Payments to speakers, travel costs for speakers, and participant support fees are not included.
HOW IT WORKS
Under Expense Requests, click on "Create" next to "Entertainment Payment Request".

Next, Click "Add Attachment" to upload scanned receipts and/or invoices.

Fill in Requester UT EID with your EID. Fill in Description with a brief description of what event took place (i.e. Weekly Research Group Meeting).

Enter the Goods/Services Date. "Begin Date" is when you received the materials are services and "End Date" will be when all materials and services have been completed.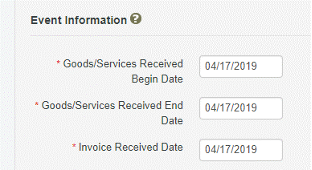 How would you like to include the OOEF information? In drop down, select "Complete Online".

Complete the: date of event, location (where you ate), purpose of the event, how this event will benefit UT.
If there were 10 or less who participated, please provide first and last names, titles and affiliations.

Enter Account Number and Amount.

Select Individual or Vendor from drop down menu. If payment is to reimburse yourself or someone else, please select Individual and then provide their EID.

If payment needs to be made to a vendor (i.e. Gatti's, Austin's pizza, O's campus café, etc.) please select Vendor and vendor's EID. If you cannot locate the vendor's EID please email the Entertainment Coordinator the vendor and their address, and it can be looked up for you.

Click "Continue".
Next page, "Choose Assignee" use the drop box in "Assign to" and choose "UT EID". Enter EID. Click "Assign"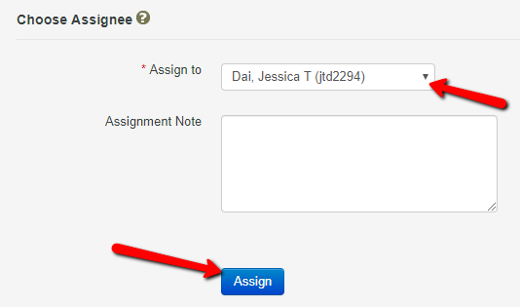 CHECKLIST
Receipt/Invoices
Keep itemized receipts
Shows method of payment
Tip does not exceed 20% of subtotal (before tax and delivery)
Alcohol is not the primary expenditure
Meals
Cannot exceed $25/person for breakfast, $30/person for Lunch, $75/person for dinner
HOW IT WORKS
The purpose of the OOEF is to substantiate the expenditures as a business event and prevent a personal tax liability for these events. The date, location, participants' names, titles, affiliation with UT, purpose of the meeting, benefit to the University, and average cost per person must all be documented on the OOEF.
Pre‐Approval of Official Occasions Expense must be obtained from the Assistant Dean and/or Dean.
The paper OOEF for Business Affairs will be used in the following situations:
Any proposed event with an estimated cost of $3,000 or above
Average cost per person exceeds $75
Alcohol is the primary expenditure
The Dean of Engineering hosted the event
An OOEF should always be filled out when:
Entertainment expenses are procured on the ProCard or UT Market
For any event that involves food & beverage
Filling Out the OOEF:
Date of Event:

when the event occurred (not when the form is being completed)

Location/Place:




If individual dined at the restaurant – add the name of restaurant
If individual dined at the restaurant outside Austin – add the name of restaurant, city, and state
On campus – add the name of the building and room number, ex: ECJ 5.408

Participants/Attendees:

10 or fewer – list each individual by first and last name, title, and affiliation. This includes the UT host. List current title and affiliation for prospective employees and students. Same information should be added in the notes of the document

More than 10 participants - do not state "more than 10" or "over 10" instead use the approximate number of attendees. For example: "Alumni of the Cockrell School were invited to an annual BBQ reception; approximately 350 are expected to attend"

Purpose:

provide a brief explanation of the purpose of the event. It is to avoid the question– what was this for?

Examples:

Lunch meeting to discuss current research project
Food provided for general meeting
Dinner for donor cultivation
Refreshments provided for joint research collaboration

Benefit to UT:

supply a brief explanation of how the event is expected to benefit the University or the benefits actually derived from the event.

Examples:

Enhance University operations.
Enhance the collaboration between departments.
Increase in engineering research funding.
To further the relationship between the faculty and staff members of Engineering.

Average Cost Per Person (ACPP):

the average per person entertainment limit is $75 and includes food, alcohol, tax, and gratuity. The ACPP is not required when there is a negotiated agreement with a vendor for a total package price that includes food and nonfood expenses (when food cost cannot be broken down). The agreement/contract must be included as part of the supporting documentation.

Examples:

$500 total bill and 12 attendees: $41.67/per person for dinner.
Event for two days: $800 and 15 attendees: $53.33 divided by two days =$26.67/per person.

Justification for Exception:

provide a justification if the average per person limit is exceeded or if alcohol is the primary expenditure. The justification should always be filled out and accompanied with the Dean's signature.

Estimated/Actual Costs:

The individual signing the "prior to" OOEF's needs to know the estimated expenses for the event so that they can make an educated decision whether or not to approve the OOEF request.

Signature:

if an authorized signature is required in a departmental level, those can be scanned and kept for department's reference. If situation requires the Dean's Delegate or Dean's approval, the paper OOEF should be attached with signature.
HOW IT WORKS
A submission for entertainment will be done via the request form link. Please view "How to Submit An Online Request For Entertainment".
Please make sure to submit the receipt within 30 days of the event or purchase date to avoid seeking different exceptions and a delay in reimbursement.
For personal reimbursement, keep the following checklist in mind:

Invoices

Keep Itemized Receipts

If one cannot be obtained, provide a an itemized description either signed memo or email

Shows method of payment (Mastercard, Visa, etc.)

If the receipt does not show this, provide a credit card statement displaying the expenditure
Other tenders, provide a signed memo (or email) indicating cash was used or a copy of a deposited check was the payment method

Tip does not exceed 20% of subtotal (before tax and delivery)
Alcohol is not the primary expenditure
If this is a foreign receipt, please provide a description of what was purchased (with a signature)

Meals

Cannot exceed

$25/person Breakfast
$30/person Lunch
$75/person Dinner

Provide the Official Occasion Expense Form (OOEF)

No matter what the reimbursement cost, an OOEF form and/or information is always required
Please review the OOEF drop-down for more information
HOW IT WORKS
A submission for entertainment will be done via the request form link Please view "How to Submit An Online Request For Entertainment".
Invoice should be itemized – if the vendor cannot provide an itemized invoice, provide the banquet order or an email stating what is being purchased.
Remit address displayed – if the remit to address isn't provided by the vendor or unsure, contact the vendor on where the payment should be sent.

Official invoice – has an invoice number that the vendor uses to verify that the payment has been made. Statements are only used for Citibank credit card payments.
As a State agency, the University is exempt from paying sales tax to vendors within the State of Texas (including beverage tax). If sales tax is charged, contact the vendor to have sales tax removed from the invoice.
Gratuity can be reimbursed up to 20% of the bill subtotal (before sales tax and delivery). If the vendor automatically adds gratuity over the 20% threshold add this information in the comments of the document.
Alcohol in UT campus facilities – advance approval by an

approved Cockrell School delegate

is required to serve alcohol in campus facilities including leased spaces. Refer to the Provost's Office website for guidelines and instructions for submitting an exception request
Meals Cannot exceed

$25/per person Breakfast
$30/per person for Lunch
$75/per person for Dinner