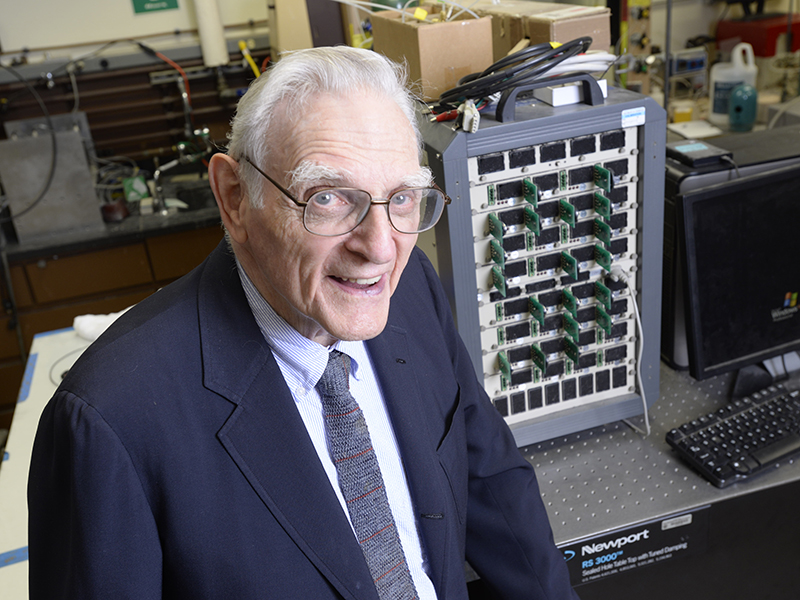 jgoodenough@mail.utexas.edu
512-471-4767
Office Location: ETC 9.184
John Goodenough
Professor
Virginia H. Cockrell Centennial Chair in Engineering
Department Research Areas:
Advanced Materials Science and Engineering

John Goodenough joined The University of Texas at Austin in 1986. He is known around the world for his pioneering work that led to the invention of the rechargeable lithium-ion battery and was awarded the Nobel Prize in Chemistry in 2019.
He identified and developed the critical materials that provided the high-energy density needed to power portable electronics, initiating the wireless revolution. Today, batteries incorporating Goodenough's cathode materials are used worldwide for mobile phones, power tools, laptops, tablets and other wireless devices, as well as electric and hybrid vehicles.
Goodenough currently serves as the Virginia H. Cockrell Centennial Chair of Engineering in the Cockrell School of Engineering at UT Austin. Along with other materials scientists and engineers in the Walker Department of Mechanical Engineering, he continues to research battery materials. He studies the relationships between the chemical, structural and electrical properties of solids, addressing fundamental solid-state problems in order to design new materials that can enable an engineering function.
Goodenough received his bachelor's degree in mathematics from Yale University in 1943 and his master's and Ph.D. in physics from the University of Chicago in 1951 and 1952 respectively. He began his career at the Massachusetts Institute of Technology's Lincoln Laboratory, where he laid the groundwork for the development of the random-access memory (RAM) for the digital computer. After leaving MIT, he joined the University of Oxford as a professor and head of the Inorganic Chemistry Laboratory from 1976 to 1986. It was during this time that Goodenough made the lithium-ion battery discovery.
In 1979, Goodenough showed that by using lithium cobalt oxide as the cathode of a lithium-ion rechargeable battery, it would be possible to achieve a high density of stored energy with an anode other than metallic lithium. This discovery paved the way for the development of lithium-ion batteries, which are now ubiquitous in portable electronic devices and electric vehicles.
After leaving the University of Oxford, Goodenough joined UT Austin, where he holds faculty positions in the Cockrell School's Walker Department of Mechanical Engineering and Department of Electrical and Computer Engineering. He is the author of eight books and more than 800 journal articles, and he is the recipient of numerous national and international honors, including the Japan Prize (2001), the Enrico Fermi Award (2009), the Charles Stark Draper Prize (2014) and the National Medal of Science (2011), The Eric and Sheila Samsun Prime Minister's Prize for Innovation in Alternative Fuels for Transportation, 2015, Fellow, Electrochemistry Society, 2016, Fellow, National Academy of Inventors, 2016, The Welch Award in Chemistry, 2017, and The Benjamin Franklin Award in Chemistry, 2018, and the Nobel Prize in Chemistry, 2019.
Publications
Braga, M.H., Grundish, N.S., Murchison, A.J., and Goodenough, J.B. "Alternative Strategy for a Safe Rechargeable Battery" Energy & Environ. Sci., 10, 331-336 (1-2017).
Goodenough, J.B. "Changing Outlook for Rechargeable Batteries" ACS Catalysis, 7, 1132-1135, (2-2017).
Li, Y., Cheng, J.-G., Alonso, J.A., Goodenough, J.B., and Zhou, J.-S. "High-Pressure Synthesis, Crystal Structure, and Magnetic and Transport Properties of a Six-Layered SrRhO3, Inorganic Chem., 56, 8187-8194, (7-2017).
Park, K., and Goodenough, J.B. "Dendrite-Suppressed Lithium Plating from a Liquid Electrolyte via Wetting of Li3N" Adv. Energy Mater., 7, 1700732, (10-2017).
Chen, L., Li, Y.-T., Li, S.-P., Fan, L.-Z., Nan, C.-W., and Goodenough, J.B. "PEO/Garnet Composite Electrolytes for Solid-State Lithium Batteries: From "Ceramic-in-Polymer" to "Polymer-in-Ceramic", Nano Energy, 46, 176-184, (1-2018).
Cyr-Choineire, O., Daou, R., Laliberte, F., Collignon, C., Badoux, S., LeBoeuf, D., Chang, J., Ramshaw, B.J., Bonn, D.A., Hardy, W.N., Liang, R., Yan, J.-Q., Cheng, J.-G., Zhou, J.-S., Goodenough, J.B., Pyon, S., Takayama, T., Takagi, H., Doiron-Leyraud, N., and Taillefer, L. "Pseudogap Temperature T* of Cuprate Superconductors from the Nernst Effect" Phys. Rev. B., 97, 064502-1-064502-24, (2-2018).
Bae, J., Li, Y.T., Zhang, J., Zhou, X.Y., Zhao, F., Shi, Y., Goodenough, J.B., and Yu, G.H. "A 3D Nanostructured Hydrogel-Framework-Derived High –Performance Composite Polymer Lithium-Ion Electrolyte" Angewandte Chemie Internat. Ed., 57, 2096-2100, (2-2018).
Ali, S., Tan, C., Waqas, M., Lv, W.Q., Wei, Z.H., Wu, S.H., Boateng, B., Liu, J.N., Ahmed, J., Xiong, J., Goodenough, J.B., and He, W.D., "Highly Efficient PVDF-HFP/Colloidal Alumina Composite Separator for High-Temperature Lithium-Ion Batteries" Adv. Mater. Interfaces, 5, 1701147, (3-2018).
Books:
Goodenough, J. B., Magnetism and the Chemical Bond, Interscience Monographs on Chemistry, Inorganic Chemistry Section, F. A. Cotton, ed., Vol. I (Interscience-Wiley, New York 1963).
Goodenough, J. B., Les oxydes des métaux de transition (Gauthier-Villars, Paris, 1973).
Huang, K. and Goodenough, J. B., Solid Oxide Fuel Cell Technology: Principles, Performance and Operations, Woodhead Publishing Limited (2009).
Chapters:
Goodenough, J.B. "Transition Metal Compounds, Electronic and Magnetic Properties of." In: Saleem Hashmi, Reference Module in Materials Science and Materials Engineering. Vol. 13, pp. 1-19, Oxford: Elsevier (2016).
Goodenough, J.B. "Personal Reflections on High-Tc Superconductivity", in Springer Series in Materials Science High-Tc Copper Oxide Superconductors and Related Novel Materials" 255, 73-75 (Spinger, 3-2017).